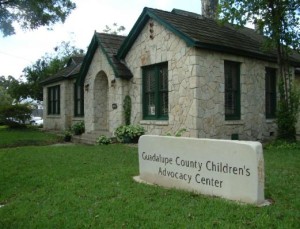 The Guadalupe County Children's Advocacy Center provides a warm, homelike
environment for children to come when there are allegations of abuse and/or
neglect. Primary emphasis is placed on the well-being of the child to prevent
abuse by facilitating the efforts of partner agencies which include:
law enforcement, Child Protective Services, the County Attorney's office,
as well as medical and mental health professionals.
Mission Statement
The mission of the Guadalupe County Children's Advocacy Center is to advocate
for and provide services to abused children and their families in the investigation,
prosecution, treatment, and prevention of child abuse, and to reduce the trauma
to children by coordinating a multi-disciplinary approach.
The GCCAC does not discriminate on the basis of race, color, national origin,
religion, sex, disability, and age in the delivery of services.
TO REPORT SUSPECTED CHILD ABUSE, PLEASE CALL THE CHILD ABUSE
HOTLINE AT 1-800-252-5400. IF A CHILD IS IN IMMEDIATE DANGER CALL 911.
Click on links below to learn more & connect with us!

.