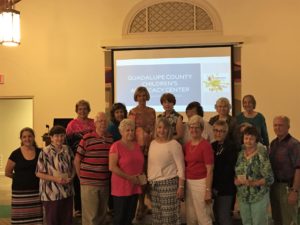 The Guadalupe County Children's Advocacy Center relies upon volunteers
to achieve our mission of providing a safe environment for children.
Eligible individuals are those who are 18 years old or older, agree to and have a
clear criminal history background check as well as a CPS background check,
and participate in on-site training provided by GCCAC.
If you are interested, Please contact us at 830-303-4760.
Volunteer orientations are held throughout the year on an as needed basis.
TO REPORT SUSPECTED CHILD ABUSE, PLEASE CALL THE CHILD ABUSE
HOTLINE AT 1-800-252-5400. IF A CHILD IS IN IMMEDIATE DANGER CALL 911